Mr Karim Darwish, WSF Vice-President, Wadi Degla Squash Director, Former number One
I am so proud for so many reasons, as the WSF Vice President, first of all, but also as an Egyptian that sees such an successful event organised in Egypt. I am so proud of the Egyptian Team for winning this title, for my wife Engy who was the coach to the team, I am over the moon, over the moon.
On behalf of the WSF, I would like to congratulate all the players, to Egypt for winning the tittle, Team USA for reaching the final for their first time. Also TMG for hosting such a prestigious event and for sponsoring the event, thank you so much, for Omar and its team.
I want to thank the Egyptian Federation for the amazing effort they produced, for what they are doing for the sport for the past 15 years, thank you so much Mr Assem
Mrs Zena Wooldridge, WSF President
"It's such a fantastic atmosphere playing here, isn't it? Why wouldn't you bring the World Team Championship here when you have an atmosphere like this.
"That first match swang with one point. One point in it, and it could have been so different, what USA might have done, had Amanda won that point, that's the margin of winning and losing: one point.
"On behalf of the World Squash Federation I'd like to thank everyone for being here this evening to support the Women's World Team Championships at the Madinaty Club.
"This Women's World Team Championships concludes a really outstanding year of squash events in the post-COVID era, and this is the first Women's World Teams we've had for four years, so it's great to see everyone back. The Women's World Team Championships is always a special event, and I think it's something the players really enjoy, they don't get to play team events too often. You can tell the dynamic, the atmosphere and the experience is really fantastic for the teams.
"Here today, we've had two nations fielding the strongest women's teams that they've ever had, and it's produced some really world-class squash. We also see a representation of the universality of squash, we have four teams from four different continents on the podium this evening.
"I'd like to thank all the players and their coaches for their cooperation this week, it's really been a fantastic week of squash.
'It's always a great pleasure to come back to Egypt, a great squash playing nation, I'd like to thank the Egyptian Squash Federation President Assem Khalifa for agreeing to host this event, thank you and your team.
Every time we visit, we witness the extraordinnary support from the Youth and Sport Minister, Dr Ashraf Sobhy. But this time, we would like give a huge thanks to TMG, by giving an amazing support in terms of hosting at this magnificent club, particularly to Team Business Officer, Mr Omar Hisham Moustafa, your team has done a remarkable job this week.
Mr Assem Khalifa, President of the Egyptian Federation
We saw tonight that the secret words of a Team event are "FIGHTING SPIRIT", as having World number One and Two is not enough, and that's the beauty of a Team event…
Mr Hatem Hassan CEO TM Sport, Tournament Promoter
It's a great honor to be a part of the organizing team for such prestigious event and I really want to thank TMG for all the support in all aspects we had during this week. I couldn't be more proud to be in a such event and my country won.
Thank you Dr Nader Shaaban, Mr Yousef Kadry (Our Mastermind), Mo Abo Shukka (My friend and source of all the support) TMG TEAM, TM SPORTS.
A moment I won't ever forget as long as I live.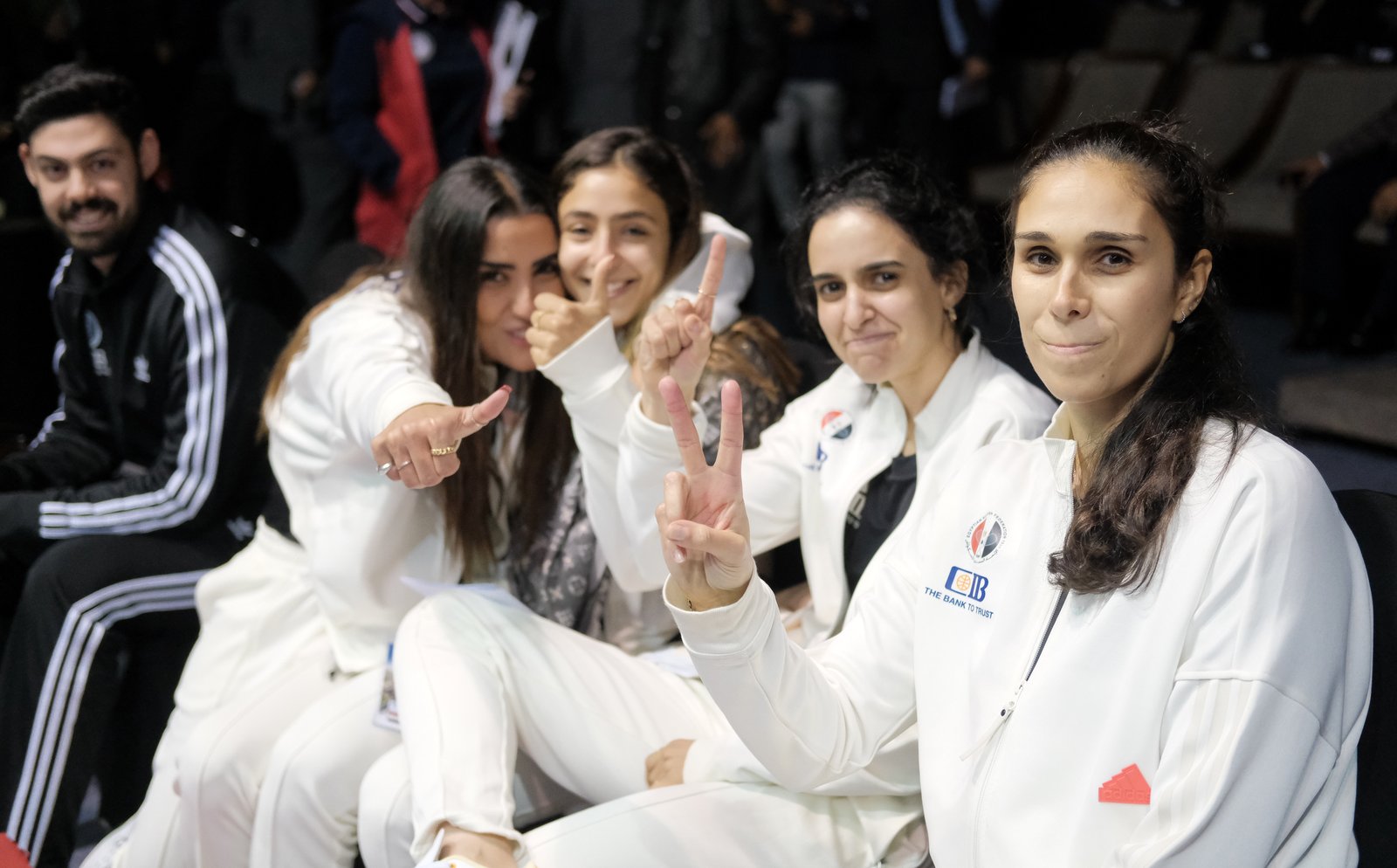 Amna El Tarabolsy, Egyptian Federation Board Member, Treasurer African Federation
I'm very happy, super proud of my team, I'm glad that everyone is happy, I am surprised by the number of people tonight in the audience, the atmosphere is amazing, the set up is amazing.
So I think now it's time to celebrate, and I'm so happy we are playing the tournament in Egypt, so we can share our happiness with the crowd…