It's Egypt at Home… Report and Quotes
[1] EGYPT 2-0 [2] USA
Nouran Gohar 3-2 Amanda Sobhy 11-7, 5-11, 10-12, 13-11, 11-8 (56m)
Nour El Sherbini 3-0 Olivia Fiechter  11-3, 11-4, 11-5 (21m)
Fram reports 
"I wanted to make it interesting for @noursherbini" 😅

Reaction from @NouranGohar and the Egypt team as they win the 2022 WAF Women's World Team Championship! 🏆#WSFWWT pic.twitter.com/vsfHnCjycf

— World Squash (@WorldSquash) December 16, 2022
Match One
Well, to be honest, I'm not sure Nouran and Amanda will spend their Christmas Break together. Yes it's a joke.
From the start, it was obvious to all there were a lot happening on court between those two, not just the squash. Things said, roars into the other face, and other nice glovesoff kind of squash, but at no point we say a bad match, or bad attitude, block, etc. Our ladies don't need that to make a great match, but let's say there is not much love lost between them.
Still, a remarkable start for the Terminator, 7/0 in seconds, well, we thought, that's going to be a quick one, after all, Amanda had been pushing hard for the Team, and she might have felt some heavy legs tonight. But it became obvious that the American was starting to get into the match, when she came back from 10/5 game ball, bowing 11/7, in 8m.
The winners were on Nouran side, 9, only 5 for Mandy. But that quickly changed in the second, as it was Nouran giving away points in that one, 6 points in total, that's a lot in a final… from 4/4, straight to 10/4, 11/5 in 9m, the American had levelled one all.
Amanda went on with the momentum, 4/1, 8/4, 9/6. A little drop in energy from the USA leader, an error, then taking a lot of time between the serves, towel, Harlem Walk (if you don't know what that means, just watch the replay when Amanda comes back from the towel box), that the Egyptian seizes to set up a game ball, 10/9. But it's still the American that closes it on her first attempt, 12/10 in 12m.
The upset was starting to appear on the horizon lining, to a now very worried crowd.
Oh that fourth game. That fourth game…. It was all happening in there. If men had been on court, I would have said testosterone was floating around, but roaring and in your face "provocation", intense for sure! Reminded me of Nick Matthew against Shorbagy in the semis of the British a few years ago!
So, that crucial game started well for the Terminator, from 3/3 to 7/3, crowd was going wild. Again, Mandy, pacing herself, Harlem Walk, and it worked: point by point, 8/8 we were, then 9/9, close very close to a possible match ball for Amanda!
And it came after yet another great rally, 10/9, but a ball that goes out of court, one math ball saved, 10/10.
A no let against Nouran, and it's a second match ball, 11/10: the crowd hold their breath, seriously, it was surreal, but another shot just clipping the outline after a weird return of serve from Nouran.
11/11. And as often, it was on the first game ball that Nouran turned the tables, 13/11, 12m, a few errors from both girls, no wonder!
A perfect start for the Terminator in the 5th, 5/0, 6/1, Amanda probably having to overcome disappointment of the previous game. But as she knows how, Mandy founds the mental and physical ressources to give it a last push, and at 8/9 to be honest, I thought that was it, she is going to upset a whole country! But a couple of gutsy redrop/short shots from Nouran – not in her natural game at all, things she's been working on recently – and it's the Magic of Egypt for the Terminator, back from Hell straight to Heaven above, 11/8 in 10m…
And as nice gesture, as in to say "ok girl, you win this time, well done", Amanda handed Nouran's racquet over to her as it had fallen on the floor… And that's the beauty of our sport.
Match Two
At lunch today, Steve Cubbins, Webmaster and photographer for the official site, had a little laugh with Nour. "Please" he said "I have a plane to catch right after the final, so, please, would you mind terribly winning 3/0 and as quickly as possible?". And Nour to reply "I'll do my best, Steve".
And she did.
Nour El Sherbini
"I was very nervous and tense watching Nouran's match. I couldn't warm up because I was just there watching. It was very hard to come on court after her match!"
Nouran Gohar
"There were moments in the match I felt very comfortable, but with the great crowd comes a bit of pressure, you don't want to disapoint them.
"Actually, I didn't think anything of being a match ball down, because I didn't know I was match ball down! I mean, I wasn't like on court at that moment. I just tried to give everything I could at the moment, not to disappoint people, and kill yourself on court.
"Plus, I was SURE my team mates would back it up anyways, I had full confidence in them, that's the beauty of team events, and that's what led me to go for my shots more because I knew I had in fact nothing to lose, playing the first match was actually a bonus, I was happy with that and glad it went my day today.
"I'm just glad I managed that come back here, in Egypt, because if this match hadn't been played in Egypt, I don't think I'd have done it. The comeback was purely because of the crowd.
"A big thank you to them and all my teammates, they're the best, honestly. They're the best in the world."
Engy (coach to the Egyptian team)
I kept on telling Nouran between the games 'forget about the score, you have to focus point by point, keep focusing on the game plan, don't get distracted with … whatever is happening on court. And I kept telling her you are a champion, you've been through much worse, you can do it and we all all backing you up'.
Wining the World title at home feel AMAZING. My first time to win it was a a team player, this time has a different taste, and it feel amazing to be a part of that team, and being with those girls.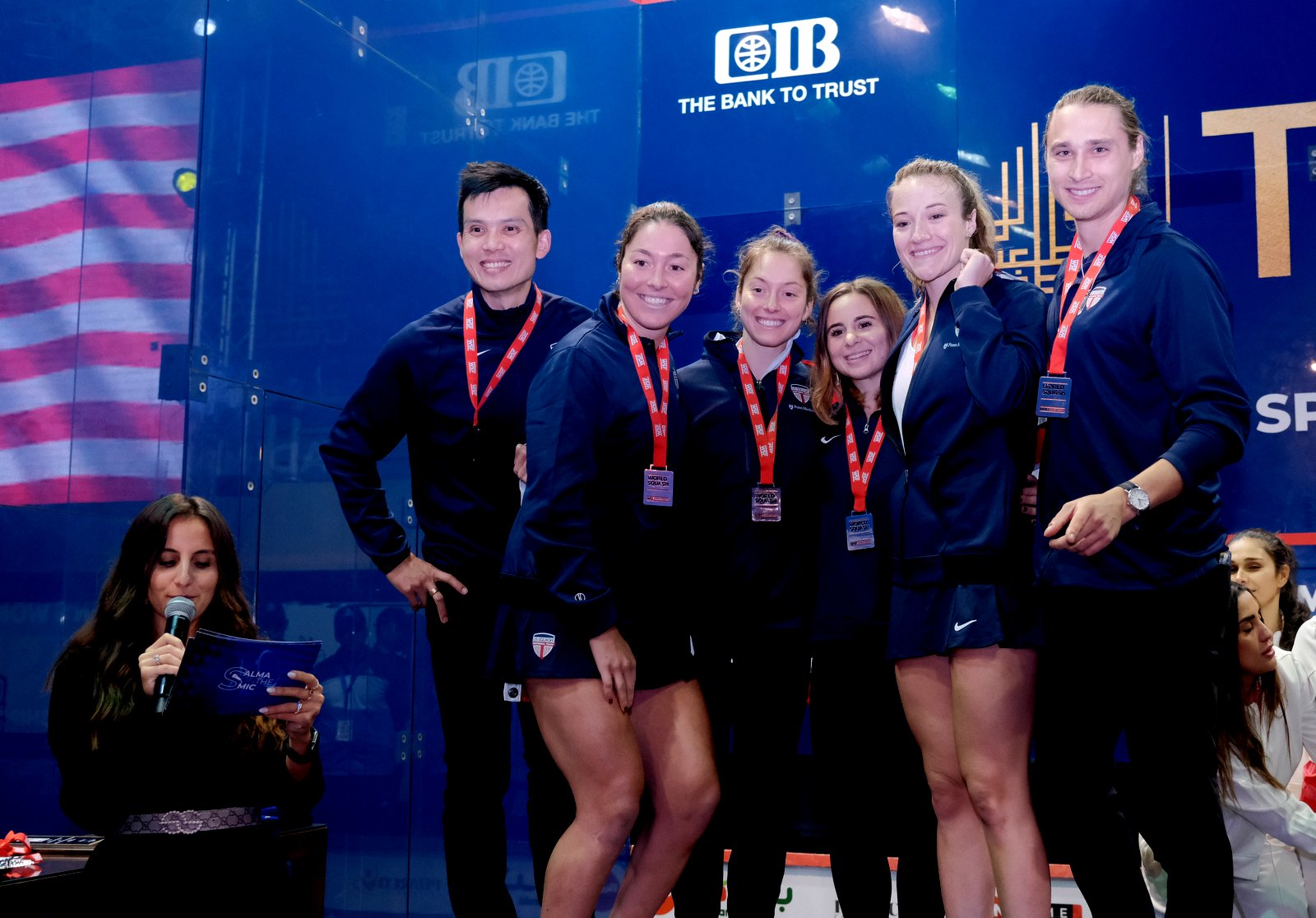 Beng Hee (coach to USA)
We are very proud of the girls, with the way they have been all week, close together, pushing in the same direction, putting their ego aside, and played a team, fantastic performance really.
We were very close today, Amanda showed she can compete, she had two match balls up, she showed that if she want to be at the top, she can be at the top.
Khaled Sobhy (father to the Sisters)
I am so proud, very proud, first that the USA are in the final, it's great for the Sport, all the players did very well, having fun and enjoying it, it's good to see.
AND, it's time to push for the Olympics! We need to put pressure on the Olympic Committee for Squash to be included in the Los Angeles 2028 Olympics!